Merry Christmas!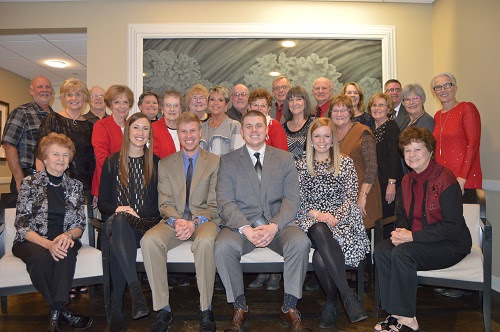 Season's Greetings and the Merriest of Christmases from ALL of us here at Moostash Joe Tours! The best way to stay warm this time of year is sharing it with the presence of those close to you! Although we're missing the "Moostash Joe" in the annual Moostash Joe Tours photo above this Christmas, we're thankful for the many incredible people we have carrying on his legacy and passion for travel.
However, we want to take this opportunity to tell you how grateful we are for YOU, your support and your patronage of Moostash Joe Tours this year. It was a year full of many wonderful memories and fantastic people like yourselves. None of what we do would be possible without you, and we're so excited to continue our tradition of helping people experience the majesty and wonder of God's creation through travel for many years to come.Take a look through a couple of the many highlights from 2017, below!
Our Own Ark Story
We're all about finding new, exciting destinations each and every year. Some that you may have heard of and some that you have not. In the case of the Ark Encounter in Williamstown, Kentucky, in many ways, we were just as surprised as you were! When we found out there was going to be a life-sized replica of Noah's Ark in rural Kentucky, we knew we had to try and take a group there. After a visit of our own and ONE Ark Encounter bus tour from Nebraska date scheduled for 2017, we were ready to share it with you…
What we didn't know was that we would end up taking SEVEN buses during SIX different dates to the Ark Encounter in 2017! Each group that came back told us they couldn't believe their eyes when they first gazed at the largest wooden timber structure in the world. We currently have FOUR dates scheduled to see the Ark and Creation Museum in 2018, but only Noah knows how many we'll end up taking. Click the picture below to see pictures from one of our many Ark Encounter Tours in 2017!
A Return to Alaska
Three years ago, not knowing it at the time, we took our last group to Alaska by bus. All in all, 26 total days of incredibly beautiful scenery, unmatched wildlife viewing and several thousand miles. A road trip that many of you took and will never forget. Over time, the logistics, length of the tour and small number of people interested became too difficult to manage. However, after a survey in which many of you stated you'd still love to go to Alaska, we put together a more manageable (and affordable) way for you to see the Last Frontier and 49th State.
Our fly-in, 8-day Alaska & Denali National Park Tour in 2017 was such a big hit, and received such great reviews, that we had to add another date to our 2018 schedule. Alaska is such an amazing destination but is a place where going on your own can be too stressful and demanding. As a group, we flew into Anchorage, met our experienced, Alaska-native Tour Director and began an epic motor coach tour of the state, including Denali National Park, ending with an easy flight home. Click the picture above to see pictures from our 2017 Alaska & Denali National Park Tour! If this interests you, don't wait much longer! Both 2018 dates are filling up fast! Click the link below for more information.
Nowhere else will you find such a variety of tours, lowest prices and top destinations than you will with Moostash Joe Tours!